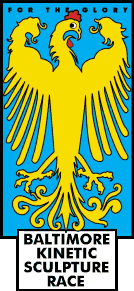 Borrowed from [ http://www.kineticbaltimore.com/]:


*

From the American Visionary Art Museum - A race of wacky, imaginative, TOTALLY HUMAN POWERED WORKS OF ART DESIGNED TO TRAVEL ON LAND, THROUGH MUD, AND OVER DEEP HARBOR WATERS constructed out of used bicycles, gears, and parts, created by a lunatic genius who tinkers around in the garage or backyard (Do you know this person?) The machines can be simple, small crafts, piloted by only one brave soul, or they can be over 50 feet long, extremely well-engineered, sophisticated vehicles powered by a team of pilots......

*

NOW.....can you picture that? LOL! Well, just in case you can't...........he he! seeing is believing!

*



One thing that can never be said about Baltimore is that we lack culture and things to do. We have some truly interesting traditions in Baltimore that the whole family can enjoy. One of the most anticipated events of the year is always the American Visionary Art Museum's Kinetic Sculpture Race. I'd been hearing about it forever, but never actually ventured down there...until 2006. OMG!!! It was unlike anything I've ever seen before . The race stretched from Federal Hill to Canton I believe with one part of the race landing them smack dab in the middle of the Baltimore Harbor....LOL! There is no way in hell!!! Some folk LITERALLY had styrofoam coolers as their floataion devices.....then you had verhicles that looked like Lockhead Martin built them...LOL! [ see the ugly thing in the top left corner....that was a well crafted vehichle!!! They did an excellent job!!!] I am not sure what part was the most interesting....a)The contraptions [peep the poodle...it was awesome up close].....the costumes [one of the winning teams re-created The Wizard of Oz with the tornado, flying monkeys, dorothy (with a 5'oclock shadow...he he!) and all]....b)the trophies [OMG! the trophies were as crazy as the cars....the categories were hillarious].......c)the fact that these were grown azz adults participating in what looked like wild and unabashed fun...LOL! [damn! I have got to get rid of this ego] or d) the fact that these vehicles were created by the people who manned them....LOL! yes...for the most part, non- engineers are given the task of building an all terrain vehicle. I could go on and on...........
*
& some of you may say, "What does this have to do with Baltimore Hip Hop?"........EVERYTHING!!! I was there! fo sho! Hollaaaaaaaaaaaaaaaaaaaaaaa!!! I had a great time....the weather was beautiful this weekend also!!! I would recommend this to everyone....Take the whole fam!!! Big Ups to Kelly Con...her uncle was a hairy chested flying monkey!!! he he!
*
oh yeah..........check out my Top 8 on www.myspace.com/clove .....& while your at it.....listen to that Silo "Clever Girl" track!!!! I am in Heaven...listened to it about 30 times yesterday.