The Clipse say they couldn't be in a better place than where they are now: touring with legends Ice Cube and Tha Dogg Pound. Coming to the 9:30 Club: Ice Cube w/ Tha Dogg Pound & Clipse SUN. MAY. 14 $35.00

Im really surprised the show isn't coming to Sonar.


*

Hip-hop tour

cancels gigs"....

The hip-hop tour teaming rappers Juvenile and Bubba Sparxxx, which was to have included stops Monday night at House of Blues in Anaheim and Sunday at House of Blues West Hollywood, has been canceled.Representatives of both acts' record labels said Monday that they did not know why the tour had been scrapped

."

*

I can't imagine why either.....he he! what a combo anyway...LOL! Juve's been here [lackluster] and

Bubba's on the way

............we'll see!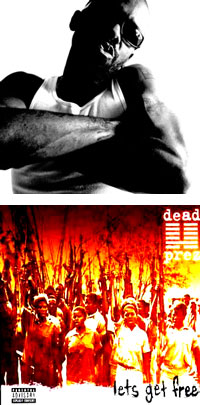 *
I agree....It's
bigger than Hip Hop
!
"Let's get free"...
is not just a slogan/name of a Dead Prez album...it should be the mentality!
*
Looks like
HOT 97
is telling its landlord...
"Take that eviction notice and shove it up your........."
but the landlord and city are not playin..."
Yeah you may slow things down by simply not leaving, but we are gonna make your life hell
".....
the saga continues
.....
I only saw
Baltimore
....
then I kept reading
....come to find out.....this is a wonderful story about
Ebony's
mom!! BRAVO, mama Dr. Lawson!!
You make me feel like I can do it too!!!
*
5thL,
along with an All star cast, staged the
Sign of the Times
concert this past weekend at the Center Stage. I heard it was a huge success!!! Femi & David, I promise I won't be missing many more. Just in case you don't want to take my word for it....the
Baltimore Times
think as highly of these guys as I do!!!
*

I get it....he's the blue collar rapper......the representative of the "workin joe"..........buuuuuuuuuut am I the only person that thinks Rhymefest takes THE WORST pictures of any rapper I've ever seen. I mean...what are they trying to say exactly?
*
in case you forgot...... i'm on MYSPACE too @ www.myspace.com/clove .....hollaaaaaaaaaaaaa!